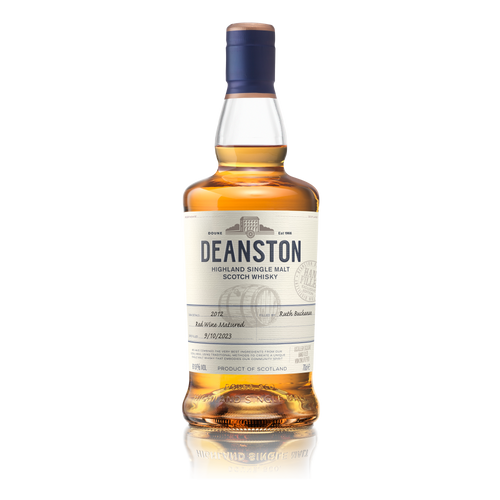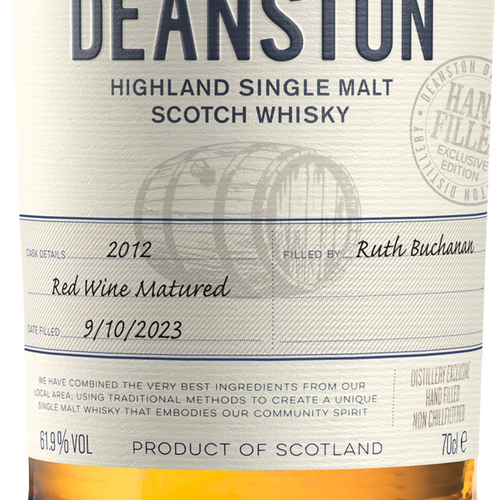 2012 Red Wine Matured
Fully matured in a Red Wine cask, this 2012 single cask was hand-
selected
and hand filled by the team at Deanston Distillery. Bottled at cask strength,

 
expect notes of creamy fudge, oak spice and heather honey.
Description
When the distillery first opened in 1966, an old weaving shed was converted to a cooperage where casks were handmade and repaired. Overtime, this cooperage evolved into our much-loved Warehouse 4; a traditional dunnage maturation warehouse and the perfect home to a wide range of aging whiskeys dating back to the 1960s.
As part of the Warehouse 4 Collection, this 11 year old single malt allows you to taste Deanston as you would during the sensory journey that is our Warehouse 4 Experience; straight from the cask.
Distilled on the 2nd of July 2012, this limited-edition single cask was fully matured in a Red Wine cask bringing notes of berry sweetness, creamy fudge and oak spice.
Hand filled at Deanston by Distillery Tour Guide, Ruth Buchanan, in October 2023 at a cask strength of 60.1% ABV. Cask number 1941.
Exclusively available at deanston.com or directly from our distillery shop.
Tasting Notes
Colour:
Light gold
Nose:
Buttered toffee, coconut, vanilla with a sprinkle of muscovado sugar
Palate:
Smooth creamy fudge, berry sweetness balanced with oak spice and heather honey
Finish:
Vanilla cream, orchard fruits and gingerbread
Customer reviews
Discover Deanston
Find out more about our distillery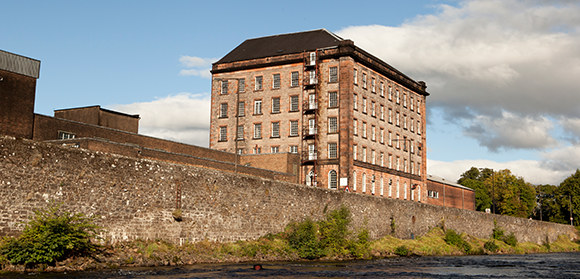 About Us
Some people don't like change. Keeping things just as they are. Comfortable. Good enough. Not us. We see things differently - we see change as opportunity. A chance to kick open the doors, rebel and make whisky that's never dull.
Find out more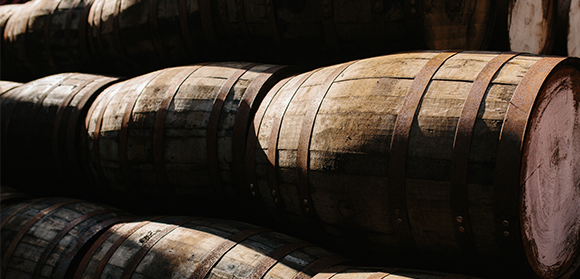 Plan Your Visit
Just a short drive from Glasgow and Edinburgh, Deanston Distillery is just 8 miles north of Stirling. Sitting alongside the mighty River Teith in a transformed cotton mill, Deanston is not your typical distillery.
Plan Your Visit